As you may know, Cadiz is known as the "Tacit City of Silver". Why this peculiar name? You can discover for yourself in the brilliant glow of the sunlight reflected off the golden dome of its Cathedral during the day and on its glassy bays during the night. This light shines through the brightness of its climate, the city of Cadiz and its people, and only by visiting is it possible to feel, to experience and to touch it.

We invite you to discover the most ancient city in Western Europe with its long and astonishing history. Countless churches, Tartessian, Phoenician and Roman archaeological remains, a certain Spanish American colonial flavour and a varied and interdependent geographical environment with a mix of unique historical elements. White towns of the Cadiz mountains, idyllic beaches, the wine-making region of Marco de Jerez, the countryside of endless pastures, wild cattle and magnificent natural parks are all parts of an unmissable explosion of the senses.
Places of interest
The Old Town. Crossing the walls of the Puertas de Tierra, you will step inside one of the most graceful and best preserved 18th Century European old towns. You will see an array of religious and civil buildings that are centuries old, crowned by more than a hundred iconic lookout towers of which the Tavira Tower in particular stands out. One of the best things to do is to lose yourself among the narrow streets and squares hidden in the historic centre at any point in the day. In the morning, experiencing the fun atmosphere of El Mercado (The Market) or of the Plaza de las Flores. In the afternoon, passing through the Alameda and contemplating this city that extends into the Atlantic and only remains attached to the peninsula by a long neck of land.
Monumento a las Cortes. Located in the Plaza de España. This site, of enormous proportions, was designed by Aniceto Marinas and the architect Modesto López Otero in 1911, and was erected to commemorate the historic event that took place in the city of Cadiz over two centuries ago: the Constitution of 1812.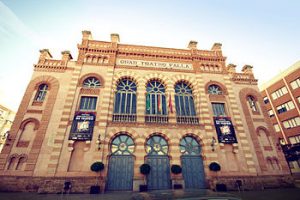 Gran Teatro Falla. Built in the late nineteenth century in Mudejar style. The Gran Teatro Falla puts on shows of all kinds, and it's world famous for its annual celebration of the artistic competitions of the Carnival of Cadiz. Only those who have experienced a Carnival night in person at "El Falla" can describe this event. Its essence lies in the flood of people, the majority of whom come in fancy dress, and the sound of the Carnival ensembles that make the theatre walls pulse with excitement. We recommend that, if you're interested in attending one of the live Carnival competitions, that you book your tickets several months in advance.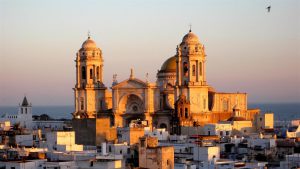 Cadiz Cathedral. Like most Andalusian cathedrals, Cadiz Cathedral is the result of a re-adaptation of a mosque. It shows the creative ability of the different architects who undertook the projects. Cadiz Cathedral is topped off by a very particular stroke of colour and one of the most amazing reflections of the city: its multi-coloured mosaic dome that gives the Cadiz sky a special golden colour.

Cadiz's wine-growing environment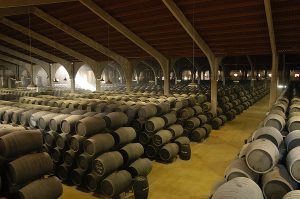 The quality of the earth at Marco de Jerez, which surrounds Jerez, El Puerto de Santa María and Sanlúcar de Barrameda, provides its emerald vineyards with a unique personality and worldwide influence, producing different types of sherry: olorosos, finos and amontillados, without forgetting the famous brandies.
Jerez de la Frontera is known all over the world for its varied selection of wineries. Passing through the streets of El Puerto de Santa María and Jerez, you will be struck by world-renowned wineries with enormous façades on almost every street corner. Among our most stand-out wineries include: Osborne, Gutierrez Colosía, Caballero, Grant, González-Byass and González Obregón. All of these are inscribed on the Regulatory Council of Wine and enjoy Jerez-Xérèz-Sherry Denomination of Origin status.
A visit wouldn't be complete without trying one of our wines that combine the flavour of oak barrels, Palomino or Pedro Ximenez grape, and the tradition of artisan techniques that are still used for ageing and vintage, giving them a unique flavour that can only be found in this region.
Cadiz's cuisine
Who has visited the province of Cádiz and left without trying its "pescaítos" and seafood? Probably nobody.
Freiduría las Flores. Located on Calle Brasil in Cadiz. In this restaurant you can try the famous "pescaíto frito", typical of the province of Cádiz.
El Romerijo. Located very close to Cadiz, in El Puerto de Santa María, you will find this famous restaurant where you can try the best seafood in the province at reasonable prices.
Mesón el Asador and Fogón de Mariana. If after all that fish you're hungry for some meat and tapas, visit either of these two restaurants. You can find Mesón el Asador in El Puerto de Santa María as well as in Jerez de la Frontera and Fogón de Mariana in El Puerto, Jerez, San Fernando and Cadiz.
Culture
Cadiz Holy Week. During Holy Week, Andalusia transforms, and, of course, so does Cadiz. Bare feet, promise crosses, statues that barely fit through narrow streets, moments of silence, saetas sung from balconies, (that bring bad luck if heard or sang outside of this time of year) the noise of tambourines, and "paso" processions.
Cadiz Museum. The entire province of Cádiz is an open air museum. The first thing you will find upon entering the Cadiz Museum are two Punic sarcophagi that over over twenty-five centuries old, an example of the archaeological wealth of the capital. The museum also integrates the traditional provincial Fine Arts, Archaeology and Ethnography museums and a Neo-Classicism inspired building. It collects, among other things, numerous objects from different Phoenician excavations carried out in the city, pieces from Roman sites, underwater discoveries, Early Christian and Visigoth art exhibitions and a superb collection of artwork, including paintings by Zurbarán and Murillo.
Leisure
The Carnival of Cadiz is the most exciting and welcoming in Spain, and the only one in the world exclusively done in song.
The Carnival groups make an enormous effort to present a cumbersome and anecdotal costume, a repertoire of original songs, with tanguillo, pasodoble, couplet and potpourri music, and poetic and satirical lyrics about social and political critique.
The motorsport world is joined with the elite sport tradition of the province. Although the MotoGP championship takes place on the circuit in Jerez, all the neighbouring cities including El Puerto de Santa María are tourist attractions for all fans of the amazing spectacle generated around the celebration of this competition. If you like the roar of the bikes, the leather jacket biker atmosphere and sensational never-before-seen motorbikes, book your hotel in advance so you don't miss the opportunity to experience this spectacle.
Although Seville's Feria de Abril is famous throughout Spain, the festivals in the province of Cádiz are also very well-known within as well as outside our country's borders. The famous Horse Fair, traditionally celebrated in early April, takes place for a whole week in Jerez de la Frontera, where you can enjoy stunning flamenco, rebujitos and beautiful horses that will walk by your side in the González Hontoria Park.
Another wonder of the province of Cádiz is its beaches. Bathed by two seas, the Mediterranean and the Atlantic, Cádiz's beaches are characterised by their fine sand and clear waters, which makes for a calm and fun experience for those who love nature and the sea. Cádiz's extended coast offers the chance to enjoy fine sand beaches and coves, and even, although it seems astonishing, unspoiled, deserted and wild spaces.
Without a doubt, one of the most recommended times to enjoy El Puerto is in summer, to enjoy its beaches, its chiringuitos (beach bars), its atmosphere and its activity. In addition, world sailing championships are held every summer, like the International Nautical Week and the Juan de la Cosa Regatta, as well as the multiple and diverse regional and national championships held every year.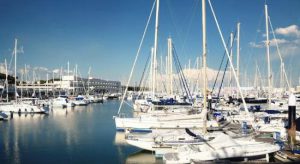 This is one of the reasons why El Puerto de Santa María has a famous sporting port: Port Sherry. This imposing port, capable of holding and servicing hundreds of sailing boats and yachts, has a very particular architecture that reflects the multicoloured nature of the city of Cadiz. Don't miss the chance to pass through this port, eat on its terraces or enjoy a cocktail with amazing sea views.
In addition, El Puerto de Santa María is the most appropriate setting for the practice of other aquatic sports like windsurf, canoeing, fishing, scuba diving, swimming etc., thankful for the fortunate and constant sea breezes that are characteristic of this climate. Other sports you will see being played are golf, with two courses with 9 and 18 holes respectively, horse riding (heavily linked to the culture of El Puerto), paddle tennis, tennis and cycling.